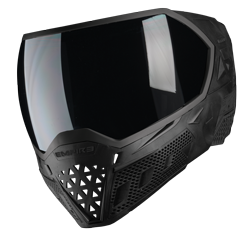 Send Inquiry
EMPIRE EVS GOGGLE W/ HUD
Empire has collaborated with Recon Instruments and Intel to offer the first Heads Up Display designed specifically for paintball. The powerful dual-core computer provides networking capabilities and delivers personalized information using the built-in 9-axis sensors directly to your line-of-sight.
Heads Up Display
HD DISPLAY- An ultra-compact HD Display with high contrast and brightness for readability and use, even in strong ambient light. The Widescreen 16:9 WQVGA ultra-compact LCD Display has a resolution of 428x240 and High Color 16-bit (5:6:5) image for clear and crisp visibility.
VIRTUAL IMAGE- The screen size to your eye is equivalent to looking at 14-inch image from 5ft away. The design ensures that your eye does not need to refocus to view the HUD, meaning it will not be a distraction when not looking directly at the screen.
UNOBTRUSIVE VIEW- The HUD will not obstruct your primary view and hides in the periphery of your vision while allowing a full 84° vertical visibility and nominally reduced horizontal visibility
Navigation
MAPS- The built-in GPS enables navigation when paired with a compatible Android or iOS device. Paintball Fields will provide maps of their fields for download to easily navigate the field, know your location, and locate points of interest. You can even build your own maps for you and your buddies to use at a personal field.
BUDDY TRACKING- Locate and track your connected buddies utilizing the Recon Engage App. Choose which friends to track and see their real-time movements as they shift locations.
COMPASS- A built-in compass keeps you oriented and dynamically displays your friends' positions relative to yours at the resort. Use the compass with the maps and GPS to navigate to field objectives during scenario games.